EXCITING NIGHTLIFE
Offering an extensive selection of wine, beer, cocktails, the chic and modern Nighthawk Lounge at Coeur d'Alene Casino Resort Hotel features the best local bands and regional entertainment acts, a state-of-the-art sound system and an exciting atmosphere. Whether you're looking for a night out or a place to unwind after work, the Nighthawk Lounge is fit for any occasion.
The Coeur d'Alene and Spokane area boast an impressive nightlife with several local hot spots to explore. With four bars and lounges to choose from, Coeur d'Alene Casino Resort Hotel in Worley, Idaho is the best place for a fun evening out. Take a look through our drink menu below and our lively upcoming entertainment.
Nighthawk Upcoming Bands & DJ's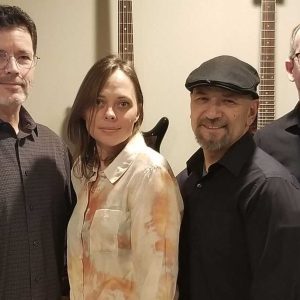 Nighthawk Lounge September 29th & 30th 8:30 pm – 12:30 am The Heather King Band is a Variety Dance Band specializing in corporate events and weddings. Entertaining and engaging, The…
See Details >>
DISCOVER OUR CASINO AT NIGHT
Coeur d'Alene Casino is built for fun and perfect for those looking for entertainment after dark. Continue the good times after the Nighthawk Lounge by stepping into our 60,000-square-foot casino. You'll discover the newest video gaming machines and play for chances to win big. Plus, if you're feeling hungry, the Red Tail Bar & Grill is open late to curb hunger with a large variety of delectable foods. Find everything you'll need for a great night out at Coeur d'Alene Casino Resort Hotel.
A NIGHT OF FUN NEAR COEUR D'ALENE AND SPOKANE
The Nighthawk Lounge is located in Worley, Idaho, a short 25 miles from Coeur d'Alene and 28 miles from Spokane Valley. Our convenient location makes it ideal for those looking for a night out in the area. Dance or sit back and enjoy a drink while listening to a variety of live entertainment. Chat with friends and decompress in a fun and social environment. Discover the best nightlife near Coeur d'Alene and Spokane at the Nighthawk Lounge.
10 am – Close Daily
Bar Area 21 & Over
**Times are subject to change
Happy Hour*
3 pm – 6 pm everyday
$1 off select beers, well drinks, and house wines.
*Does not apply during events
Soft Drinks
Coke, Diet Coke, Sprite, Lemonade, Iced Tea, Orange Juice, Cranberry Juice, Tomato Juice, Coffee - $2.95
Beers
Domestic Draft
Budweiser, Bud Light, Coors Light, Kokanee 16 oz – $5 | 22 oz – $7
Craft Draft
Ask About Our Rotating Local Handles 16 oz – $6.5 | 22 oz – $8
Aluminum Pint
Budweiser*, Bud Light*, Coors*, Coors Light*, Miller Lite*, Michelob Ultra* $5
Domestic Bottles
MDG, Rolling Rock, O'Douls, Bud Light Lime $4.5 (12 oz)
Craft Bottles
Black Butte Porter, Corona, Corona Light, Samuel Adams Lager, Guinness, Heineken, Hard Cider, Hard Seltzer $5
Wine
White Wine
Coeur d'Alene Casino Private Label White $7 | $26
Chardonnay $6
Beringer Pinot Grigio $6 | $21
Chateau St. Michelle Riesling $7 | $26
Chateau St. Jean Chardonnay $8 | $30
Brancott Sauvignon Blanc $8 | $30
Blush Wine
White Zinfandel $6 | $21
Red Wine
Coeur d'Alene Casino Private Label Red $8 | $30
Cabernet Sauvignon $6
Merlot $6
Colores Del Sol Malbec $6.25 | $23
Mirassou Pinot Noir $7 | $26
Louis M. Martini Sonoma Select Cabernet $7.75 | $28
Columbia Crest H3 Merlot $9 | $34
Sparkling Wine
Korbel Sparkiling $7.50
Andre Brut $14
Mixed Drinks
Cherry Limeade
Three Olives cherry vodka, sweet and sour, muddled limes and a dash of grenadine. $6.75
Arizona Watermelon
Southern Comfort 100, Amaretto Di Amore, DKY peach schnapps, orange juice, pineapple juice and a float of grenadine. $7.25
Irish Gold
Jameson Irish whiskey, DKY peach schnapps, a splash of orange juice finished with ginger ale. $7.25
PB & J
Skrewball peanut butter whiskey, raspberry liqueur and cream. $7
Emerald City
Malibu coconut rum, DKY melon, DKY blue curacao, sweet and sour and Sprite. $7.25
Honeydew Melon Rita
1800 Silver tequila, DKY melon, sweet and sour and limes. Blended or on the rocks. $8.5
Peach Moscow Mule
New Amsterdam peach vodka and fresh lemon juice topped with ginger beer. $6.75
Sweet Tart
Smirnoff raspberry vodka, Island Punch Pucker, sour and Sprite. $6.75
Screwball Monkey
Skrewball peanut butter whiskey, DKY cremé de cocoa, DKY banana and vanilla ice cream mix. $8
Specialty Drinks
Huckleberry Lemon Drop Martini
44 North huckleberry vodka, triple sec, huckleberry puree, muddled lemon and sweet and sour. $8
Key Lime Pie Martini
Smirnoff whipped vodka, Smirnoff vanilla vodka, Malibu coconut rum, vanilla ice cream mix, sweet and sour and muddled limes. $8
Still Have Questions?
Frequently Asked Dining Questions
We offer online ordering in some of our restaurants. Go to cdacasinotogo.com to order. If you order off of the website, we will text you when your food is ready.
Unfortunately at the moment we do not, however, you can order online from your room and we will text you when the food is ready to be picked up.
The Chinook is the only restaurant that takes reservations currently. To make a reservation at the Chinook, click here.
While we can't guarantee any cross contamination before the product gets to our restaurants, we do the best we can to make sure that we cater to allergies and gluten free options. If you ask your server, they will be sure to point you in the right direction for gluten-free options. Please let our servers or cashiers know about any allergies so we can make sure our kitchen is being extra mindful of the allergen. Not all products are listed on our menus so it is very important to let us know if you have an allergy.
From late spring to late summer we offer patio seating at both the Chinook and the Red Tail Bar and Grill. We have offered Igloo dining in the past but currently we are not offering this amenity. Check back next year to see if we bring it back.
There are a number of special promotions our restaurants in Coeur d'Alene Casino Resort Hotel offered throughout the week. Discover current restaurant promotions.
Our restaurants are not open 24/7. Huckleberry Deli can accommodate late night dining and is open until 2am. The Red Tail Bar & Grill is open until 11pm Fridays and Saturdays, and open until 10pm Sundays through Thursdays. To view hours for each of our restaurants, select a restaurant from the list above. Hours are subject to change.