COEUR D'ALENE CASINO RESORT HOTEL NAMED A 2023 'TOP RANKED CULINARY EXPERIENCE' IN AMERICA
Home of the Revered Chinook Restaurant, the Coeur d'Alene Tribe-Owned Casino Resort Hotel is Honored for Food and Beverage Excellence by Club + Resort Chef Magazine
(Worley, Idaho; April 12, 2023) – Coeur d'Alene Casino Resort Hotel, the tribally owned property located a short drive from Spokane in Northern Idaho, announces today that it has been honored as a "Top Culinary Experience" by Club + Resort Chef magazine.
The annual list includes dozens of esteemed clubs and resorts from across the U.S. as judged independently by a panel of chefs from several of the industry's most well-respected properties.
"We feel fortunate to be able to provide a variety of world-class food and beverage options toour guests, who visit us from all over the region to experience all that we have to offer," said David Norton, Director of Food and Beverage. "The resort has so many unique amenities and offerings and we have placed a heavy significance on our efforts to enhance the overall dining experience, so we're thrilled to gain recognition as one of the best culinary offerings in the country."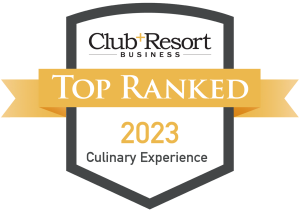 The signature "upper casual" dining venue at Coeur d'Alene Casino Resort Hotel is Chinook Restaurant, renowned for its wood fire grill and a savory menu of meats, seafood, pastas, deserts and cocktails. The menu features locally sourced, taste-of-the-Northwest seasonal ingredients and main dishes, including wild sockeye salmon, prime beef, and more.
The resort is also home to six other food and beverage options, including Little Dragon Eatery, which opened recently as part of a new food court at the resort. Developed by Executive Chef Tracy Rose, Little Dragon Eatery serves quick, easy Asian-inspired dishes, such as cashew pork, orange chicken and pork fried rice. Another popular restaurant is Red Tail Bar & Grill, with its glowing fire, rustic décor and specialty items reflecting the Inland Northwest region.
Visit www.cdacasino.com or call 800-523-2464 for more information about Coeur d'Alene Casino Resort Hotel and its amenities.
About Coeur d'Alene Casino Resort Hotel
Since 1993, the Coeur d'Alene Tribe has operated the Coeur d'Alene Casino Resort Hotel, located where sky greets Mt. Tch'mutpkwe, source of the St. Joe River, 25 miles from Coeur d'Alene, Idaho. The casino resort is among the largest employers in North Idaho employing between 850-1,100 depending on the season and contributing more than $33.3 million to education in the region since it opened. Additionally, millions more have gone in support of a wide range of public projects, emergency relief, charities and programs in the Pacific Northwest. Named Tribal Destination of the Year in 2019 by AIANTA and winning the silver Distinguished Dozen award from Courier in 2019 and 2020, the property features 300 rooms and suites, seven distinct food and beverage venues and entertainment including live music and comedy as well as hands-on tours and experiences through the casino's Cultural Tourism Program. Three million-dollar winners have found their luck on 100,000 square feet of gaming space offering nearly 1,200 video gaming machines and high stakes bingo. Additional amenities include a 15,000 square foot spa voted 1st for "Resort Spas that deliver the Ahh Factor'' by Spatrips.com (2012), 40,000 square feet of meeting space, indoor and outdoor wedding locations and Circling Raven Golf Club, an 18-hole, par 72 course acclaimed as a "Top 100" course by every major golf publication in the U.S. The Gene Bates designed course is home to the Circling Raven Championship, an Epson Tour "Road to the LPGA'' event, held annually in August. LIKE Coeur d'Alene Casino on Facebook and Instagram or follow us on Twitter. For more information about Coeur d'Alene Casino, visit www.cdacasino.com.